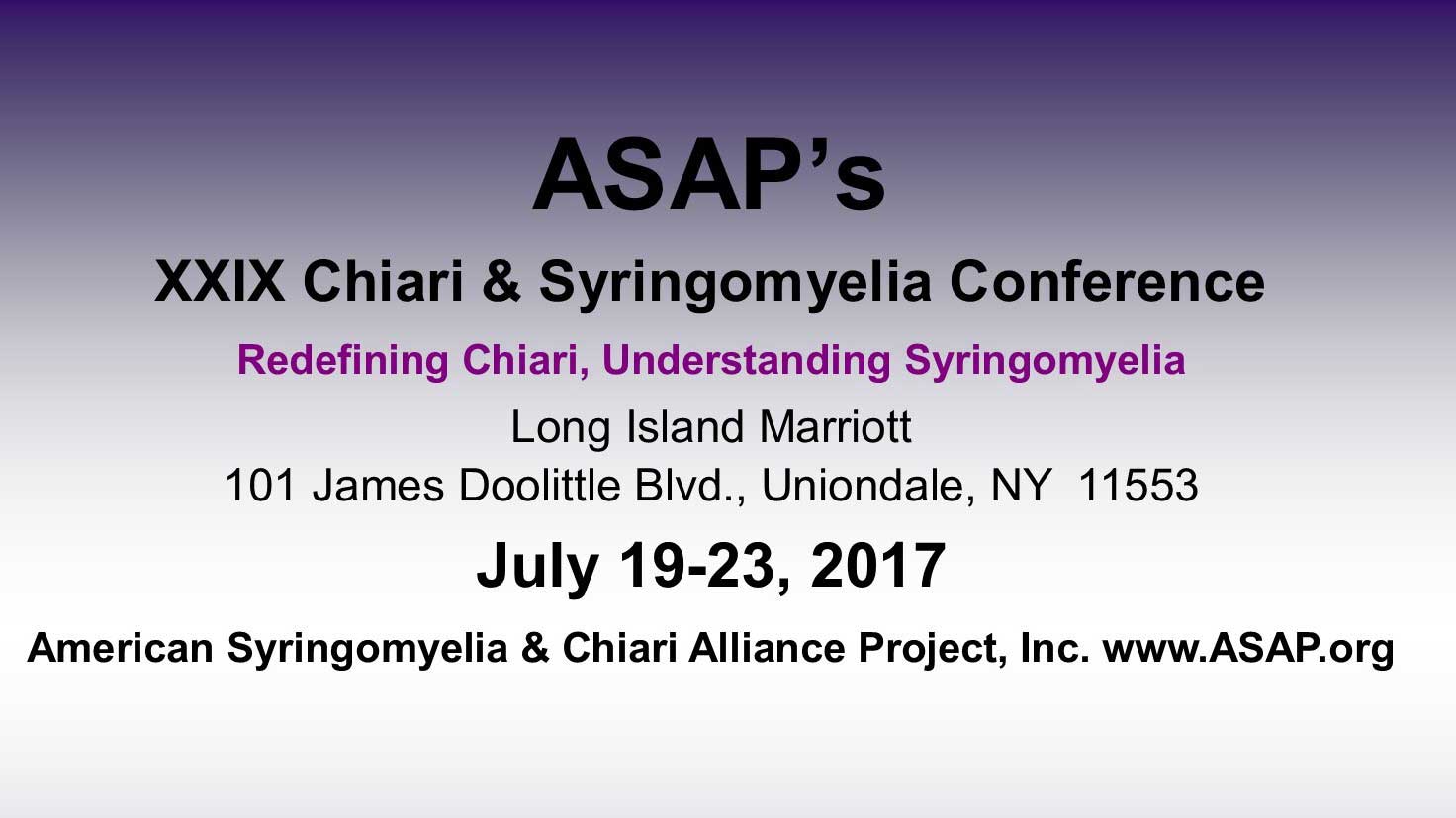 This Annual event draws the top specialists in the field who bring years of experience to those affected by the disorders and to their colleagues. During the four-day conference you will gain knowledge of symptoms, treatments and research. You will experience a unique opportunity that will give you the power to improve your quality of life, make educated decisions about your medical care and help you take control. But one of the most rewarding benefits will be meeting and sharing this experience with others who personally know what it is like to live with Chiari and syringomyelia.
Co-Hosts Roger Kula, MD and Paolo Bolognese, MD click here
Webcast
View the ASAP Chiari & Syringomyelia Conference in REAL TIME!
Register – complete the registration form (click registration located in the blue box to your right)
Pay – after you submit your registration form it will take you to the conference fee store. Scroll to the bottom of list and select Webcast.
Get ready – One week before the conference you will receive your personal login information as well as instructions on how to make sure you are ready to participate!
Register for ASAP's Chiari & Syringomyelia Conference now
Click here to view the conference agenda!
Make Hotel Reservations
Conference Hotel: Long Island Marriott
101 James Doolittle Boulevard
Uniondale, New York 11553 USA
516-794-3800
Click Here to make hotel reservation online or call 516-794-3800 use the Corporate Code "CISCISA" to receive the discounted room rate.
Room Rate: $135.00 plus tax per night
Cut-off Date: June 27 or until room block is filled whichever comes first.
For registration fees, deadlines and more check out our frequently asked questions FAQ
ASAP Gives Back
ASAP has several programs to assist with members who are interested in attending the conference.
ASAP's L.E.A.R.N. Points Program provides members who hold fundraisers with assistance in travel, hotel and registration. If you know of someone who is interested in being a conference sponsor, those donations can go toward you points. Deadline to attend this year is May 31.
ASAP's Conference Scholarship programs provided a waived registration and hotel room assistance to ASAP members who qualify.