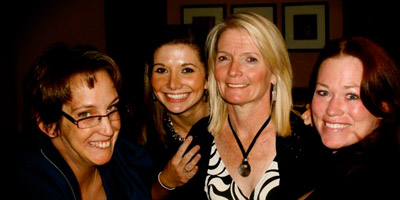 "ASAP brought me from a very isolated and depressed state. Knowing that you are not alone brings with it a level of healing and peace of mind I never imagined possible. ASAP has eased my mental suffering translating into making me feel better physically."
-Karen, Tennessee
All support group leaders are volunteers who either have these disorders or have a family member diagnosed. While it is their desire to offer support, spread awareness and make a difference in the lives of those affected, please keep in mind that they may not always be available to help. You can contact the ASAP office by email info@ASAP.org or call 903-236-7079. ASAP is greatly appreciative for the time and labor our volunteers give. Without them we would not be able to offer the many programs that are available.
United States

Click on a state or country below to display information for local support groups.
California
Bay Area Chiari/Syringo Support
SF Bay Area CA Support Group forming
Leader: Looking for a new leader
Phone:
Email:
Bay_Area_Support@ASAP.org
Connecticut
ASAP's Connecticut Chiari/Syringo Support Group
If you would like to start a group in Connecticut please contact Annette Johnson
Annette_Johnson@ASAP.org
Georgia
ASAP's Marietta GA Chiari/Syringo Support Group
Dee Mathewson
Marietta, GA
770-696-3564
dee.mathewson@ASAP.org
Michigan
ASAP U.P. of Michigan Chiari & Syringo Group
Upper Peninsula of Michigan
contact Stephanie Carlson-Ballone
stephcb@rocketmail.com
or call 906-235-4740
South Dakota
ASAP's Dakota Chiari/Syringo Support Group
New Group Forming
contact: Halley Lee at shlee@pie.midco.net
Texas
ASAP's Greater Houston Chiari & Syringo Support Group
Kerry Chu
Cypress, Texas
516-330-7152
Kerry_Chu@ASAP.org
****
ASAP's Central Houston Chiari/Syringo Support Group
Annie Chapman
Houston, TX
713-540-8823
Annie_Chapman@ASAP.org
****
Dallas Ft Worth Chiari/Syringo Support Group h4>
Simone Key
Dallas, TX
Simone 214-640-0651 DFWsupport@ASAP.org
Arizona
AZ Syringo & Chiari Support Group
The AZ Syringo Chiari Support Group meets @ St.Joseph's Hospital, 11:00 am to 1:00 pm during January, April, July and October with special events during the interim months. Call Kathleen 623-570-5945 or email arizonasyringochiari@gmail.com. for the next meeting information.
Illinois
Chicagoland ASAP Chiari/Syringo support Group
Fred Jacobeit
Phone: 708-370-2463
coachjake4@yahoo.com
Iowa
ASAP's Iowa Chiari/Syringo Support Group
If you are interested in starting a group in Iowa please contact Annette Johnson
Annette_Johnson@ASAP.org
Massachusetts
ASAP's North Central MA Chiari/Syringo Group
new group forming
contact Kevin Mixon
MA_support@ASAP.org
South Carolina
ASAP's Charleston Area Chiari/Syringo Support Group
Group meets in Summerville
contact Laurie Yeh
703-955-6453
yeh.laurie@gmail.com
Tennessee
Chattanooga ASAP Chiari/Syringo Support Group
June Hyett
Hixson, TN
Phone: 423-240-5247
Email: TN_Support@ASAP.org
West Virginia
Huntington WV Support Group
New Group Forming
Angela Holley – call 304-638-3432 or email
WV_support@ASAP.org
International

Click on a country below to display information for local support groups.
Ireland
Irish ANTS
The Northern Ireland Self Help Group
4 Broughton Park, Belfast BT6 ODB.
(048) 90 800 948
OR
166 Battleford Road, Armagh BT61 8BX.
(048) 37 548 382